Tennis masterstroke had been to ask Top Player Andre Agassi and Best Player Steffi Graf to be two of the four players chosen to play the exhibition Centre Court Celebration event under the new roof, but – whoever it had been – give that person a gold star.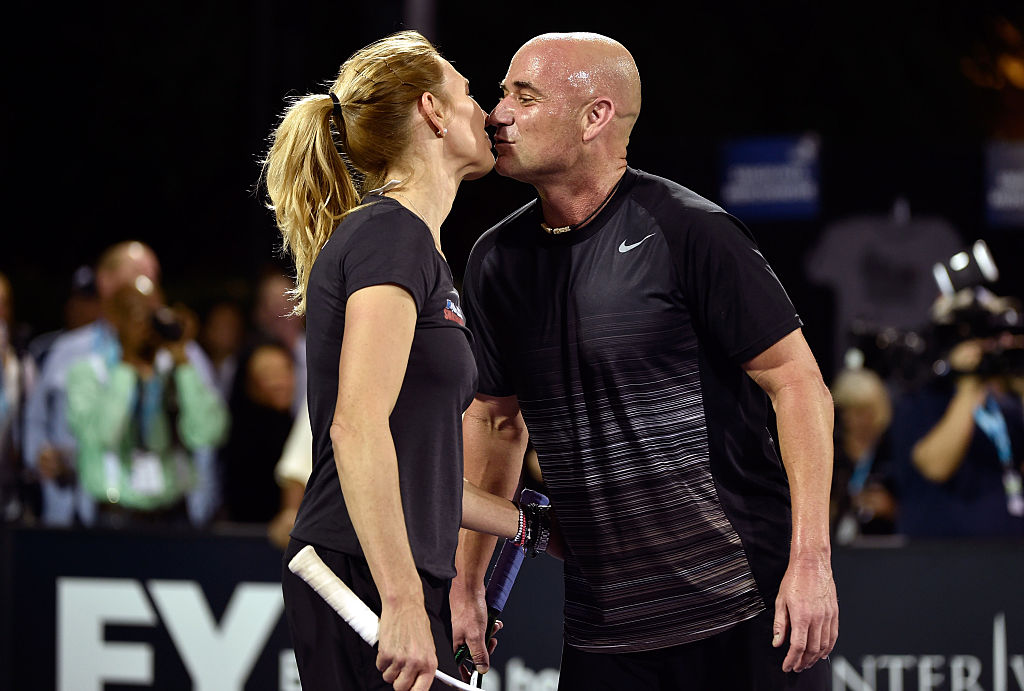 If there's a more popular, higher-achieving couple in tennis history, then it's a tad difficult to return up with their names. When asked just before their mixed doubles match which of them would be calling the shots on the court, Agassi knew his place.
He could also be one among just four men in history to possess won all four slam titles but he feels that even that just doesn't cut it by comparison with the achievements of his wife.
"I defer to 22 Slams, definitely," said Agassi. "She moves better than me, and she or he looks better than me."
Actually, thereon the last point especially, the very fact is that at 39 and with two children Graf still appears to possess precisely the physique she owned 21 years ago, the year she won the "Golden Slam" of all four majors plus Olympic gold.
But actually it had been her husband who hit the primary really killer stroke of their mixed doubles match against Tim Henman and Kim Clijsters, together with his very first serve of the match.
Initially Agassi grinned sheepishly at the Belgian, requesting that she a minimum of standing a touch further behind the baseline to receive his first serve. But when he delivered a whistling ace, it had been clear that his old habit of hitting the ball as hard as possible is one he has not lost.
Later it emerged with unintentional clarity again, when Agassi drove a strong backhand into Clijsters' midriff, causing her to reel away, much to his embarrassment. Graf gave her husband a couple of whacks together with her racket in mock disgust.
The whole day was, of course, suffering from smiles and jokes on the court – and, within the mixed doubles, not infrequent kisses between Mr and Mrs Agassi.
Graf and Clijsters, too, enjoyed their in-jokes. An early rally became, initially unintentionally than as rather an honest running gag, an organized duopoly of a dozen forehands between the 2 women, with their male counterparts left standing so idle that their hands were literally on their hips. The punchline came when Clijsters eventually delivered the ball to Agassi, just for him to fumble the specified volley into the internet.
Little wonder that the gang lapped it up, one person calling out near the end: "Come on, Mr and Mrs!" But it had been their opponents who prevailed within the tie-break, whereupon all four exchanged kisses at the internet – including, comically, Agassi and Henman.
"I just want to mention that my wife is such a lot better at tennis than Tim's wife," joshed Agassi, as Lucy Henman grinned at courtside. "But really, I don't know if I ever smiled the maximum amount on a court ."
For a person who has himself brought numerous smiles to Wimbledon over nearly 20 years, that's an enormous statement – and a particular thumbs-up to whoever it had been who decided the launch of a replacement roof was an honest occasion for Centre Court to host its own version of Mr & Mrs.